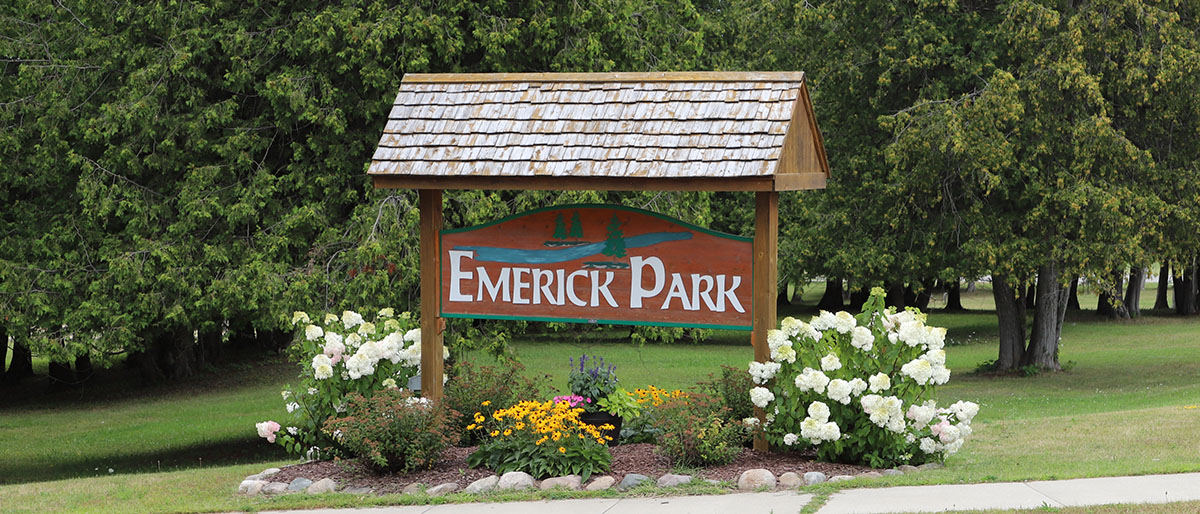 The Village of Hillman Welcomes You to Emerick Park...
Emerick Park, located on the banks of the Thunder Bay River, is a good place to spend the day, a weekend, or longer. There are many things to do in the area to appeal to different types of people. Hillman's closeness to the population centers of Alpena, Rogers City and Gaylord provides an opportunity for shopping at stores and malls. Or for those who just want to tour the countryside, there is plenty of opportunity for deer and elk viewing. For the fisherman, Hillman is an excellent place to spend time.
The Thunder Bay River, nearby lakes, and streams provide many opportunities for anglers. In the spring, stream mouths and the shoreline of the Thunder Bay in Alpena offer excellent smelt dipping. Locally, brook trout are plentiful and at least 15 species of fish have been caught within the impoundment at the park. In season, mushrooms and wild berries are found nearby to add some variety to the menu. Hunters can find many types of game in season in the area. Dear, waterfowl, rabbits, squirrel, and other small game can be found. One of the favorite uses of the park, however, is a place to just relax and take it easy.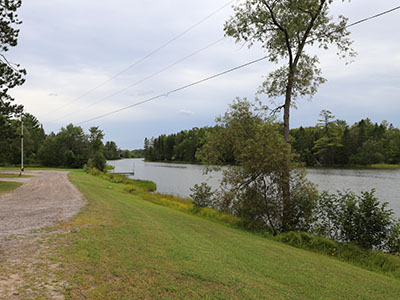 Facilities
Emerick Park has 22 campsites available with water and electric. The park also has 12 sites with water, electric and sewer. Four primitive sites are available.
Amenities
Bath house with hot showers with in floor heat (Registered Campers Only)
Boat Ramp
Sanitation Station
Playground
Pavilions (available for activities by reservation)
Free High Speed Wi-Fi
Recreation Policy
Emerick Park does not reserve sites. It is first come, first serve.
Park Rules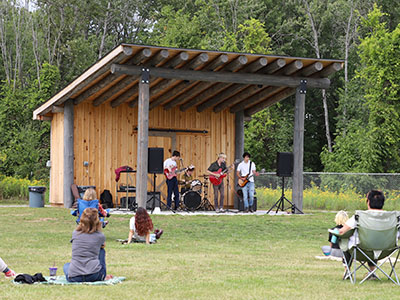 Speed limit 10 mph - Please drive carefully.
All sites must be renewed by 10:00 a.m. or they will be considered available for other campers.
No sites will be rented unless camping unit is present.
Before changing sites, check with park office first.
No more than two vehicles will be allowed per site. All others must park in designated area.
One camper and one tent no larger than a four person tent, per site.
Dogs and other pets must be kept on a leash at all times for the safety of your pet and the other campers. Dogs and other pets shall be walked in the designated pet walk area. All droppings on your lot or any other lot by your pet shall be cleaned up immediately and deposited in the dumpster.
Fires are allowed only in firepits, grills or appropriate areas.
Please do not cut any trees or shrubs in the park.
Campers only after 10:00 p.m.
The Renter shall hold the Village of Hillman or its Agents harmless from any and all claims, cost, losses, suits, damages and/or judgments, which may in any manner be imposed on and/or incurred by the Village of HIllman, its Agents or Employees for any bodily injury, loss of life and/or damage to property resulting from, arising out of of, or in any way connected with the Renter's use of the premises.
Absolutely no dumping of gray water or sewage on the ground. All containers must have tight fitting lids and dumped only at dumping station. THIS IS STATE LAW! Please put trash in plastic bags and place in trash containers.
Check out time is 11:00 a.m.